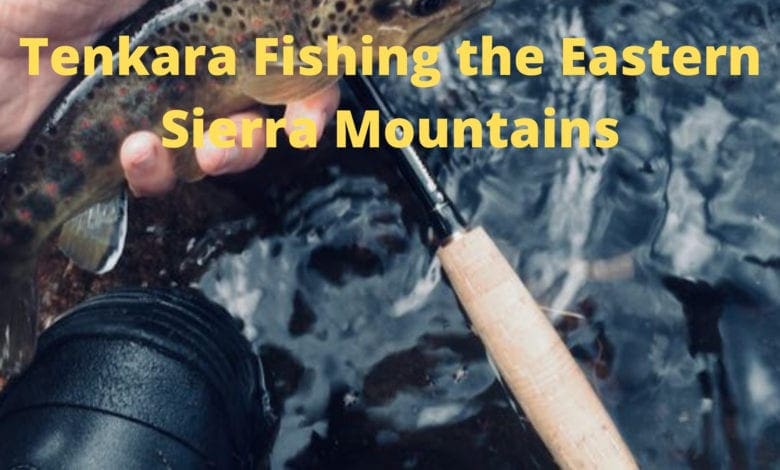 In this crazy world sometimes we just need to escape the complications of everyday life. We all need time to take walks along streams and beaver ponds and focus on the simple things like the dancing of a brook trout on the end of a Tenkara rod and line. Tenkara is the art of rod, line and fly with nothing else. Tenkara rods are telescopic with a very thin cloth tip to tie on the line and they are incredibly flexible so you do not need a lot of line and you can fish small streams, ponds and even lakes or out of a kayak with these amazing rods. The entire set up goes into your backpack and you can cover serious distance and focus on the fishing instead of the technique.
This was my dream trip: just me, a backpack, sleeping bag, rental car and a brand new Tenkara rod that I wanted to learn how to fish with. I knew that the Eastern Sierras were the perfect place to test this rod. I knew the beaver ponds and creeks that I had fished throughout my entire childhood were the perfect place to escape for five days of solitude and escape with a cell phone left on airplane mode for the majority of the week. I told no one except my wife and jumped on a plane to Reno, NV for the escape.
An early arrival allowed me to jump into a rental car and blast south to Bridgeport, California. My first stop of the day was the General Store and Main Street Deli to pick up supplies and a loaf of sheepherders bread that the region is famous for as well as enough sandwich meat, cheese and such to get through a week of lunches, and a steak for the grill that night. A quick trip over to Ken's Sporting Goods allowed me to pick up a fishing license before I headed up Twin Lakes Road to find a campsite for the night. I would test out some of the streams like Blacksmith Creek which feeds into Twin Lakes.
I was fishing the Tenkara USA Sato rod + Kit and I brought along a few extra flies, some specifically for Tenkara fishing. The Sato complete set basically comes with everything you could need to get started including Tenkara lines, a keeper, tippet, forceps, nippers and flies in a handy little bag that drops right into my pack. The SATO is an adjustable rod with lengths of 10'8″/ 11'10″/ 12'9″ which is perfect for me. Throughout the trip, I fished everything from small trickle streams, to bigger creeks and beaver ponds and that adjustability of the rod makes just enough of a difference that by the end of the trip I was glad that I had this rod. The real beauty of the Tenkara USA set up is that everything comes in a single kit that really works well together and it is solid at each length. By the end of the week I had lost 4 flies all through user error with two in the trees on the stream banks above my head and 2 on logs in the creek on drifts. I probably should not have been fishing anyway but luckily flies are cheap.
The balance of this rod and its light weight are impressive. It makes the rod easy to cast. Everything that I caught was no further than 25 feet from me at any point so this was perfect water for the Tenkara rod. Dry fly action on small brook trout streams was what I was after this week. Each stream found me really appreciating the small amount of gear I had with me in this Tenkara USA set up.
I found a campsite at Honeymoon Flat and grilled a steak for my first night. With some bread toasted on the camp fire and a hunk of cheese, it was perfect. I was up in the early morning and enjoyed the cool breeze, the sound of aspens rattled in the wind. I admired the colors as I headed down the road to Travertine Hot Springs for an early morning soak. Then I meandered south to Trumbull Lake and Virginia Lake for a heck of a hike and some more fishing. It was pretty slow but worth the drive. By early afternoon I was sitting at the lookout on Conway Summit watching a loan mule deer walking up the canyon, side-stepping sage and bitter brush. I jumped in the car and headed down the summit and over to Lundy Lake Canyon. I was finally going to get to fish some of the beaver ponds above Lundy Lake and the Lundy Creek for trout. I quickly set up camp and headed out to fish. I came back to camp early, wolfed down an apple, cheese, crackers and summer sausage for dinner and crashed out in my sleeping bag all before 8 pm. It was a perfect day.
The next day I woke up early, broke camp and spent the next seven hours fishing Lundy Creek above the beaver ponds and below the dam. Seeing this canyon that I fished when I was five years old brought back a flood of memories before I headed to Lee Vining for a burger and chocolate shake at Mono Cone. I set up camp at Mono Vista RV Park. I like staying in Lee Vining. I went to kindergarten and first grade in this little town back in the mid 70's, and it has not really changed in 45 years.
Lee Vining gave me easy access to Tioga Pass, a perfect drive to Ellery Lake, Tioga Lake, Saddlebag Lake and Lee Vining Creek. While staying at Lee Vining, dinner at Bodie Mikes and breakfast at Nicely's were traditions I could not pass up. The Tenkara SATO is so easy to secure in my pack and just head anywhere without having to worry about the entire system. I didn't have a ton of equipment and for that I was thankful. I think the reduction in flies helped me catch more fish on this trip. I caught a couple of rainbows and had the opportunity to sight fish a little bit standing on big rocks at Tioga Lake. It is just under 10,000 foot elevation, so beautiful, and the kind of mental renewal that I needed. I caught a little more stream fishing on Lee Vining Creek which was heavily stocked but still great fun and I caught a trout for dinner on the grill. Fish cooked over fire is perfect for my night at Moraine Campground.
Day Four was my last full day of fishing, and I wanted to get in some quality hikes. My last full day of fishing included a trip to Deadman Creek for a full day of walking up a trickle of a stream and catching 4-8 inch brook trout out of small little pockets. It is what the Tenkara was made for. The first time I ever put my hands on a Tenkara rod, it was this stream that I was dreaming about fishing. Six hours of walking from pool to pool and fishing my way up the stream filled with memories of my father and me fishing this stream together almost 35 years ago. I caught a few fish. Certainly not the kind of day most folks dream about, but to me it was exceptional.
I jumped in the car and headed just east of Mammoth Lakes to catch a soak in the famous hot springs and ended up finding a last minute camping spot. My goal was to wake up early and hit the famous Erick Schat's Bakery for breakfast. I needed a great cup of coffee, some pastries and I wanted a few more loaves of the famous Basque sheepherders bread before I jumped in the car and headed back to Reno for a late night flight back to Nebraska.
The Sato is the perfect rod for the Eastern Sierra Mountains, given the number of options up and down 395 from Reno to Bishop offer an amazing amount of great locations to get lost for days and weeks fishing small streams and mountain lakes.  Some of the water is big but finding those small beaver ponds and late fall streams filled with aspens, pine trees and streams with easy access make this trip one to consider.  Tenkara fishing allows you to focus on the small riffles, eddies and ultimately notice the details you wouldn't have fishing any other way.