---
All year long we are on the lookout for great items to add to our Holiday Gift Guide. This year we made trips across the country and to Europe. We traveled to ATA show, SHOT show in Las Vegas and Outdoor Retailer in Denver and kept out eyes open in between to come up with this extensive list of great gift items. We are including only products we have found through our own searches, and all of these products we have physically tested and used during the last year. There are no affiliate links in our list. Only Rungu is a current paid advertiser, and Orvis ads on our site are affiliate links. Enjoy this gift guide and please share it.

---
Rungu Electric Juggernaut MDV Series Trike
The Rungu Electric Trike is the newest tool in our hunting arsenal. The ranches we hunt are tremendous, and getting to the back of those ranches quietly without disturbing the entire ranch is important if I want to be successful. Whipping through the ranch quietly on a bike gives me options, and the electric motor can make all the difference in getting deer out once I get one on the ground. The addition of a 2-inch ball on the bike allows me to pull a deer cart and get the animal out of the canyons. Two wheels in the front of the RUNGU trike make this a tool that works in snow, mud, sand and over rough terrain in a way that could not be accomplished with only a bike. The great news is that the RUNGU is quiet. I can be in tune with the surroundings in a much better way than riding on an ATV, without all of the major maintenance and gas bills.
---
SPOT X 2-way Satellite Messenger
During a recent trip to Manitoba, I tested the SPOT X Satellite Messenger, and it was exceptional. The ability to send a message to loved ones and let them know I was okay and doing well was worth the price of admission. Knowing if I was in an emergency situation the SPOT X could contact the authorities and trigger a rescue gave me peace of mind. SPOT has now saved over 6,000 people in a crisis situation. We wrote a full review of the SPOT X back in August, and our opinion is the same. If you have an outdoorsman, skier, hunter, backpacker, boater, etc. on your gift list, this unit is the ultimate life saving tool. Check them out at Findmespot.com.
---
Kestrel 5700 ELITE Ballistics Weather Meter
The Kestrel weather meters have long been used by competition shooters, hunters to assist in making quality long range shots. With the introductions of the Elite Ballistics App and bluetooth integration with select range finders the technology in the 5700 is to good to pass up. Wind direction, cross winds and wind speed all play a part of bullet performance as can altitude, angle and even temperature. What we liked in the Kestrel system is that they have created an easy system for anyone to use and the technology for gear heads and technicians to get really really granular using this system. Check out these amazing tools at Kestrelinstruments.com.
---
Riton Optics
Looking for a real surprise gift this year? Look to the scopes from Riton optics. We found the RT-S Mod 1 3-9×32 to be absolutely perfect for our Henry 243 Single Shot. With a 20% wider field of view and Riton HD glass, the RT-S Mod 1 3-9×32 is a great entry level rifle scope. With a quality reticle, clear glass and fully multi-coated lenses, this scope will fit the bill and protect the wallet. Zero resetable turrets are the icing on the cake. Riton Optics is a worth taking a serious look at. We like that Riton Optics is a veteran and family owned business.

---
Pheasant, Quail, Cottontail by Hank Shaw

There is rarely a week that goes by where you will not find us poring through the books produced by Hank Shaw or his fantastic website. This year Hank Shaw produced Pheasant, Quail, Cottontail focused on upland birds, turkey and small game from field to feast. These books are beautifully photographed by Holly A. Heyser. You can buy all of the great books by Hank Shaw at his website honest-food.net. We have been using recipes produced by Hank for several years. We know that any hunter or cook on your gift list will be happy with any one of his books as a good resource for cooking wild game.
---
Scope Setter
We picked up the Scope Setter this year, and within an hour on the bench we were able to see the real value of this tool. Scope Setter allows you to align your scope to true level on your rings and level your scope reticle. This is extremely important with ballistic drop compensating scopes. You can have both of your scope ring bases aligned to a picatinny rail which allows you to pull your scope off of your rifle for travel and instantly clamp it back on and have a repeatable installation each and every time. Absolutely genius and made in America, this is a tool that any shooter and hunter can use. Check out Scope Setter.

---
Henry 243 Single Shot Rifle
Henry continues to innovate with new rifles that are 100% made in America. Henry introduced the single shot break-action rifles, and with calibers ranging from .223 to 45/70 they have the ability to offer a rifle for whatever you are looking to hunt. We like these rifles especially when mentoring new hunters. With the break action rifle we can clearly see that that the action is clear and safe. The rifles are reasonably priced with good quality and ease of use. These rifles are perfect for new hunters and will work well for left or right handed individuals. The single shot rifles are built to the same quality that you would expect from Henry. We think these rifles make a great gift to new hunters who are looking for simple design and an uncomplicated rifle to take to the woods.

---
Pelican Vault Gun Cases
We recieved the Pelican Vault Medium Pistol V200 case over the summer. For hunters who are interested in traveling across the country, we believe the Vault gun case is a serious option. These cases are built for hard use and anything you can throw at it, from airlines to inclement weather. These cases were built by Pelican to be affordable and still offer the best features that hunters expect. The Vault comes standard with stainless steel hasps, heavy-duty handles, push button latches, crushproof high-impact polymer and the case is weather resistant. We jumped up and down on this case and it's as solid as can be. Protection at an affordable price that has all of the features you need and want in a case backed by the great team at Pelican.

---
Hitcase Pro and Lenses

We just won't go hunting anymore without waterproof cases for our phones. After reading a story of a hunter and his two sons falling in the water and only one had a waterproof case, on every hunting trip we switch to the Hitcase Pro. This case allows us to keep our phone protected from all things wet. It also allows us to mount our phone into a rail slide mount system so we can use the phone for filming and photography. The best part of the Hitcase system are the lenses. We have the iPhone Lens Kit which allows us to improve the quality of our photos and video from the field. We especially like the TrueLux SuperWide Lens to create Fish Eye Photos and the Macro photo for shooting macro shots. Hitcase is serious about phone cases and phone photography.
---
OTTOLOCK
We picked up the OTTOLOCK this summer and tested it our on a summer trip to Montana and a quick trip to Denver. We live in a world where sometimes you have to lock items up. We have used the OTTOLOCK to lock coolers, bikes and even trail cams to the tree. The flat design allows the lock to be coiled up and shoved into a pack quickly and with minimal weight. I bring this lock now on small trips like our trip to Denver, and I was able to quickly lock my bags up in the Air BNB just as a secondary protection for our gear. The OTTOLOCK is designed for quickstops and great for trail cams. We like it for the cooler in the back of the truck when we run into the store. It's great to know our cooler will still be there when we come back.

---
Magna-Ready Apparel

When I first heard about the Magna-Ready clothing line, I jumped at the chance to learn more. The buttons on the shirt are sewn on for looks, and the magic is in the magnets. The shirt uses magnets to keep the sleeves and the shirt buttoned up. This technology allows those with old and cold hands to put it on quickly and take it off quickly. When your hands gets cold or sore from arthritis, this is the shirt you will want to have. We have a few hunters on our gift list this year who are going to be getting one of these shirts. Now if we can convince them to make a hunter orange version, we will really have something!!
---
BEDGEAR
BEDGEAR's tagline is "Bedding for people who like being awake."  Hunters and outdoorsmen/women love to be awake, and BEDGEAR helps to make that happen.  We have not yet taken the plunge to get a Bedgear bed, but we already taken the plunge on the BEDGEAR pillow.  Go online, enter your information or your recipient's information, and the system at BEDGEAR will help you figure out the best pillow for your size, sleeping direction and style.  We tested out the BEDGEAR M1X pillow .  It reduced snoring, which was great, and we liked it so much we took it on our last camping and hunting trip.  We have been impressed with this company, and when we are ready to shop for a mattress BEDGEAR is going to get a serious look.
---
MTM Gun Vise GV-30
Hunters and shooters need to keep their equipment clean, and the MTM Gun Vise can help make that happen. This vise is a bargain at under $45.00. It keeps your prized rifles, shotguns and pistols from getting marred and it keeps chemicals off your prized furniture. Warranted for 5 years, this vise offers quick adjustment for each of your weapons. There is room for all your brushes and rods. Built out of rugged, chemical and solvent resistant polypropylene plastic, the MTM Gun Vise is made to last! This is a gift that will be well used.

---
Orvis PRO LT Hunting Gloves
The Orvis PRO LT Hunting Gloves offers unique features for each hand with functionality unseen in standard shooting gloves. Right/trigger glove has a digital polyester thumb patch for toggling the safety on double barrel guns. The left hand offers muted colors so as not to distract the shooter while locating the target. Pittards® sheepskin leather on the finger offers a durable and thin feel for effective trigger pull. A blaze orange accent on the right glove only keeps these designed for right-handed shooters. Wewould like to see Orvis make some of these for left-handed shooters. Either way these are some of the best shooting gloves on the market today.

---
Peak Design Everyday Messenger Bag

The Peak Design Everyday Messenger Bag has been around since 2015. This bag was a partnership with professional adventure photographer Trey Ratliff. They hoped to create a single bag that could adapt from camera bag to work bag quickly. The Everyday Messenger Bag has been exceptionally overdesigned from the MagLatch closure, to the origami-inspired FlexFold dividers, hyper-adjusting padded seatbelt strap and weatherproof shell. Dedicated capture clip attachment points and front access panel are designed for lightning-fast photography, drone, and everyday gear access. This bag is for creatives, travelers, commuters and everyone in between. I have used this bag every day for the last 3 months, both as a photography bag and as a commuter/laptop bag and found it to be exceptional. Having met the team from Peak Design, I am impressed with their conservation ethos. Check out all the great gear at PeakDesign.com.
---
Muck Boot Company Waterproof Leather Chelsea Boot
The Men's Chelsea Leather ankle boot offers a classic look with warmth, waterproof materials and maximum water resistance. This rugged oiled leather is durable and will look good as it patinas with use. A rugged outsole and a comfortable insole and footbed allow these boots to fit well while shining through in a work or commuter environment. I have worn these around for about a month now and find them to be a solid pair of boots. They look great whether I am in jeans, khakis, cords or chinos. Check them out at Muck Boot Company.
---
5.11 Tactical Rapid Quad Zip Pack
I picked up this pack after watching a colleague carry it around for a week. This pack provides all-access storage and a 270 degree U zipper. The Rapid Quad's simple design allow you to drop your laptop in the padded compartment and everything else in interior mesh pockets or the front top pockets. Sometimes the best designs are the simplest ones, and this pack is just that. Just the right amount of design and simplicity make this pack a useful addition whether you are working in the office or on the road for the week. Check out this pack and some of the well tested and proven gear from 5.11 Tactical.

---
Outdoor Edge Para Claw Watch
Outdoor Edge's Para Claw Watch was launched this year, and it makes the best every day carry watch with a little edge. The Para Claw, inspired by Davie Bloch from Outdoor Edge, has Japanese quartz movements and provides a little protection. They keep pretty good time while hiding a serious edge that could save your life. Check these out at Outdoor Edge.

---
Leatherman Charge TTi Realtree
The Leatherman Charge TTi in Realtree camo came in and blew us away with 18 tools in a single multi-tool. Leatherman offers the best multi-tools because they invented these tools that are now everywhere across the world. We find the various tools, and how they are used, are as varied as the owners. We have used the hardwire cutters, pliers and knife the most on our TTi. The included extra bits are outstanding. The Charge TTi is equipped with titanium handles, a customizable bit driver, outside-accessible tools, a premium S30V® knife blade, and an included leather sheath that is also camo that holds the extra bits and the TTi. This tool is sure to be a favorite gift. Order directly from Leatherman.com.

---
The KeySmart Leather

The KeySmart is a handy tool designed to keep your keys organized and always at the ready. This year KeySmart came out with a new edition covered in leather that is not as hard and cold in your hand and in your pocket. The leather adds a little warmth to this handy tool. You can now add tools to the KeySmart including a screwdriver, USB drive and folding knife. We like the quick disconnect for our electronic car key. This handy tool makes a great gift that will actually be used daily.

---
Nexbelt EDC Rogue Black Gun Belt

Nexbelt has been a favorite of ours for quite some time. The new Nexbelt EDC Rogue Black Gun Belt gives us a little more security while being able to blend in and truly look like a dress belt with the comfort and fit of a true 1.4 inch ratcheting system. The EDC Rogue uses stainless steel fasteners instead of pins and back-up set screws to let you conceal/carry with confidence. These belts have become favorites of everyone we have sent one to, so we already know they are a great gift.
---
Zippo 6-Hour Rechargeable Hand Warmer

Who doesn't want warm hands at the press of a button? Zippo crushes it with the ability to provide a rechargeable hand warmer that can also recharge your USB compatible devices. Dual sided heat up to 120 degrees with 5 heat settings and lights to keep you posted. We took this into the duck blinds this year, and it performed flawlessly. We throw ours on the charger in the evening and it's ready to use daily during cold weather.

---
DuckCamp Hunting Shirt

We fell in love with the DuckCamp hunting shirt this fall during dove season. This shirt is made from 100% nylon and it breathes and dries faster than cotton. It has a tailored athletic fit which works equally well in the field as it does in the office. This is a shirt that feels as good as it looks and is excellent for travel because of how easy it is to clean and dry. We like the solid Mallard Green. We look forward to seeing DuckCamp grow as a company.

---
The Stormy Kromer Waxed Cotton Work Apron
There is no question that we are fans of Stormy Kromer. This Ironwood, Michigan company has been pumping out the best hats in the country since 1903. This year while we were getting ready for a sausage making party we spotted the Stormy Kromer Apron online. We had to have one and after getting our hands on it, we are happy to recommend this as one of the best aprons we have had the pleasure of using. The apron is made with 10 oz. paraffin-treated 100% cotton and one inch straps. This is an apron for craftsmen made by craftsmen right here in the USA. Check out the Stormy Kromer Apron and some of the great caps as well.
---
Sure-Shot YENTZEN ONE2
Sure-Sure Game Calls dramatically improved the original YENTZEN with a major extension of the ONE. This year they offer the new Double Reed System for the YENTZEN ONE2. The redesign of this new call includes the double reed system, screw-lock system for smoother and fast tuning and a new engineered tone chamber makes the YENTZEN ONE2 over two times as loud as the original YENTZEN. It is a clean sounding call and will become a heirloom on your duck hunter's lanyard.

---
Orvis Trout Bum® Quilted Snap Sweatshirt

Let's be honest, sometimes you need to dress it up a bit more than a standard hoodie. The New Orvis Trout Bum® Quilted Snap Sweatshirt is warm, comfortable and a little dressier with a sense of style. The quilted pattern provides insulation for the cool temps, and the lack of a hood allows someone to wear this on casual occasions. We love ours around the campfire, and often throw it on to fend off cool air while we are out running errands.

---
G-Line Sharp Site Full Pack

The G-Line Sharp Site Full Pack is a tool to use on your scope, spotting scope and/or binoculars to view your scope through the clear screen of your cell phone. The G-Line is exceptional for a view of the target that will improve visibility causing less strain on the eyes and posture. You can, of course, shoot photos and video as you are using the device. The Sharp Site allows me to show young shooters specifically how to line up the sites on a rifle scope and record their shots. The device is universal, allowing it to work with any kind of cell phone and case.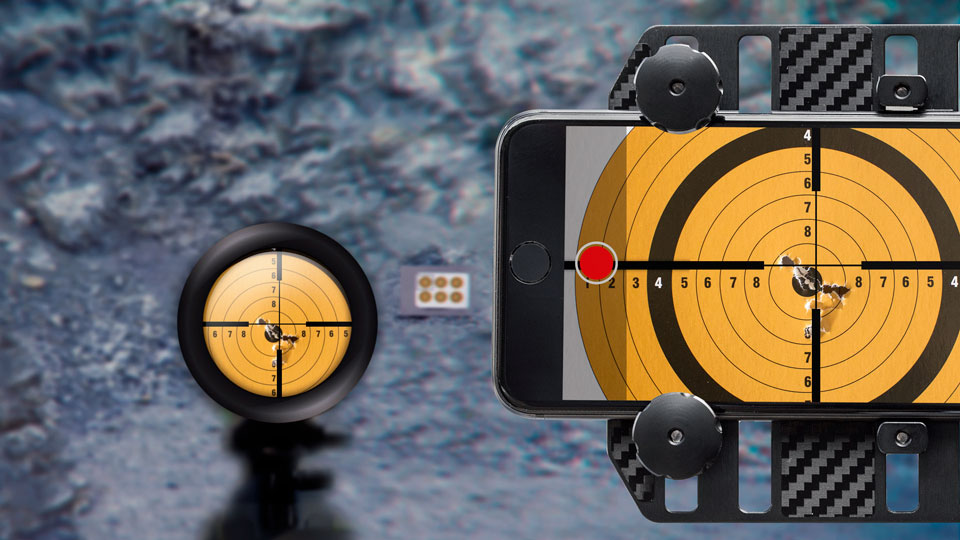 ---
Troika Outdoors Hammock
This year is the year of the hammock, and Troika Outdoors makes one of the best triangle hammocks on the market. Available in a wide variety of colors and built tough, it is lightweight enough to be thrown into a pack and carried with you on a hike into the mountains. Hammocks make great gifts. Of course, we really liked the camo hammock so we can show our true colors no matter where we are.
---
Ekster Parliament Wallet
We like the Ekster Parliament Wallet and tracker as a gift for the man who is always losing his wallet. RFID blocking and the tracking card help keep your wallet and your phone together. With both paired, if you walk away from your wallet in a busy restaurant your phone will alert you before you get too far away. Great idea and a slim wallet with just enough for an evening out. Check out Ekster.com.
---
Orvis Pro Series Hunting Vest
This year we found the Orvis Pro Series Hunting Vest and it's a serious upgrade to what we have used in the past. First and foremost this has pockets and options everywhere. The game bag is large, expandable and will hold 3 pheasant very comfortably. The pack features a hidden water bladder pocket so there is enough water for you and your pups. We like the straps on the bottom so as we remove layers we have somewhere to attach them. This is the best of all worlds built into a pack for serious upland hunting. Orvis worked with professional guides and came up with options galore!

---
JetBoil Flash Cooking System
This summer I spent 10 days cooking with the Jetboil system. I made coffee, breakfast, dinner and the occasional soup for lunch. The new Flash system offers up a 1 Liter FluxRing Cooking Cup, Thermochromatic color-change heat indicator, push-button igniter, and measuring cup/bowl. You can add a coffee press and skillet to the mix. The Flash is the right size for 1-2 people and priced under $100.00 Check out all of the great gear at Jetboil.com.

---
The Deception Chamber by Cro-Mag Outdoors
The Deception Chamber is really three turkey calls in one. Slate, glass and aluminum insert calling surfaces are included with one single call along with an insert holder and a purple heart striker. We tested this call and found it bring in birds. The glass and aluminum need a serious scratching to work well. The good news is that you get three calls in one for under $40.00. Check out Cro-Mag Outdoors.

---
National Geographic Trails Illustrated Topographic Maps

Adventure is where you find it, and the best way to get somewhere is still the paper map. Hidden gems are everywhere, and when we need a map of a new forest or trail system we routinely reach for National Geographic Maps. They are waterproof, tear-resistant, updated regularly in cooperation with the US Forest Service, National Park Service, BLM and others. Our hope is that these maps will continue to expand to all of our National Forests. Check them out at NatGeomaps.com.

---
Orvis Dog Travel Kit

Don't forget your pups this holiday season. The Orvis Dog Food Travel Bag allows you to quickly grab a weekend's worth of food and the entire kit provides a bag to throw in a few of the pups favorite toys and gear. It keeps the car and gear clean and the dog smell out of the car. Orvis has a wide selection of great pet products.

---
The Pocket Shot

The Pocket Shot is the evolution of the slingshot. The team at Pocket Shot has been working on perfecting the slingshot to be better, faster and safer than other slingshots. Perfect for hunters and recreational use as its tiny size allows you to keep it in your pocket, tackle box, or backpack while storing ammo in its watertight compartment. Up to 350 feet per second, the Pocket Shot is not a toy. This year Pocket Shot has created the Pocket Shot Junior and Junior Arrow Kit. We have been practicing with these for a few years now, and they are fun to have around.

---
---
Chamberlain Realtree Universal Garage Door Opener
What dad doesn't want a two button garage door remote in Realtree Camo? Not any of them we know. This garage door opener works from 800 feet and sets up wire-free with a secure encryption. Chamberlain has been doing this a long time, and this is the original clicker. With two buttons, you can control up to two garage doors. It includes a visor clip and battery. Pretty great at under $45.